PPI is involved in the construction and management of programmes aimed at preventing the socio-economic resilience of populations excluded from the traditional channels of education and employment. PPI particularly supports young people and women living in priority countries for Official Development Assistance (ODA).   
The international NGO mobilises experts to develop the economic autonomy of the most fragile populations, by acting through three components called "business lines":
Education and financial inclusion 
By working on the emergence of financial services and distribution networks adapted to the needs of these populations and by developing financial education programmes.
Entrepreneurship 
By supporting associations and cooperatives in the definition and implementation of services adapted to the needs of entrepreneurs, including the training required to create and develop sustainable income-generating activities.
Inclusive value chains
Supporting small-scale producers in accessing markets, in cooperation with the largest international buyers of agricultural products, to structure fair agricultural value chains and strengthen the quality of production.
Activities are spread over 15 countries, concentrated in priority regions: Sub-Saharan Africa (46%), Indian Ocean (13%) and Middle East and North Africa (15%). With 43 active projects in 2020, PPI's actions have reached a total of more than 12 million beneficiaries worldwide.
We work on all the factors that trigger development on the ground, with the aim of reaching the greatest number of beneficiaries contributing to positively transforming our world for future generations.
1998 : PlaNet Finance
PlaNet Finance was created on October 13th 1998 by Jacques Attali. The initial mandate of the organisation was to enable populations excluded from financial services to borrow, save or insure themselves through the development of microfinance.
2015 : Positive Planet International
In 2015, PlaNet Finance became Positive Planet, then Positive Planet International (PPI) in 2017. Within the collective composed of Positive Planet France, the Positive Planet Foundation and the Positive Economy Institute, PPI broadens its scope of action and organises its activities around 3 business lines: (1) financial education and access to financial services, (2) support for business creation and (3) strengthening inclusive value chains.
2021 : PPI – SOS GROUP
In 2021, Positive Planet International joins forces with SOS GROUP and becomes PPI (People, Power, Inclusion). The entity keeps its three international business lines.
SOS GROUP, Europe's leading social enterprise, works primarily for the benefit of the most vulnerable, future generations and the territories. Today, nearly 2 million people benefit from the actions and innovations of SOS GROUP, carried out by its 22,000 employees and its 600 associations, companies and establishments in France and abroad.
PPI is now taking part in SOS GROUP international action, actively participating in the Group's development, alongside a dozen other entities in over 40 countries. Complementarity is the watchword of SOS GROUP, which is always seeking to maximise its impact through the collaboration of its subsidiary organisations but also with external partners.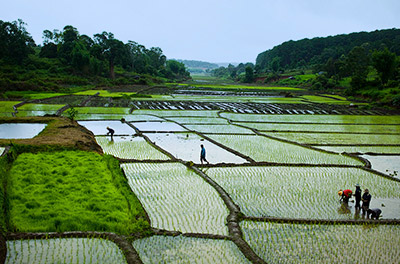 PPI is an association under French law, created in July 2021. The governance of PPI is built on the same model as all the non-profit organisations of SOS GROUP; i.e. as an associative subsidiary of the Group with the 4 founding associations of SOS GROUP Board Members (Solidarités, Santé, Séniors, Jeunesse). Its President is Frédéric Bailly, member of SOS GROUP Executive Board in charge of international activities.
The majority of PPI's funding comes from grants from bilateral (e.g. AFD, Enabel, Dutch Embassy) and multilateral (e.g. EU, UN Agencies) public donors. Because of its technical expertise in economic development, PPI acts as a service provider and technical assistance provider to companies and donors, always for the benefit of the most excluded populations.
As an example, in 2020, PPI won 28 projects with a total budget of 4.3 million euros.
PPI BUDGET IN 2020 BY REGION
(amounts in K€)
PPI BUDGET IN 2020 BY BUSINESS LINES
(amounts in K€)