Our projects around the world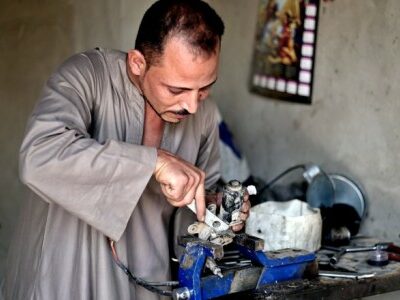 Context
Poverty is one of the main problems faced by the communities of Sohag and Assiut, which are the two poorest regions in Egypt (Sohag ranks 18th and Assiut ranks 20th on the Human Development Index). Employment opportunities are very limited and local community organisations have very few opportunities for support. The majority of the population in these two regions is mainly active in the agricultural sector and, to a lesser extent, in tourism and small-scale industry. But there are few jobs and incomes are limited. The education system is not good enough and thus young graduates do not have the skills and qualifications to find a decent job or to start their own business.
Local community organisations have very limited financial resources and suffer from a lack of networks and links with other NGOs. As a result, and despite the work of approximately 35,000 NGOs in Egypt, their activities unfortunately have a very limited and unclear impact.
Goals
Contribute to the development of economic empowerment of rural youth and their low-income families.
Address the financial and non-financial needs of unemployed and low-income youth in eight selected villages in rural Upper Egypt (Sohag and Assiut regions).
Contribute to the capacity building of microfinance institutions in Upper Egypt.
Beneficiaries
600 low-income rural youth (men and women, aged 21-35, income less than US$2 per day, owners of existing micro-enterprises and unemployed) – living in eight villages in the Sohag and Assiut regions of Upper Egypt.
An NGO, the Upper Egypt Association for Education and Development (AUEED), which will strengthen its technical, institutional and operational capacities.
40 AUEED staff/credit officers from the two main branches in Sohag and Assiut will increase their professional skills, tools and working methods.
3000 family members of 600 low-income rural youth (an average family size is five members).